Sunday, February 15, 2015
3:00 pm to 5:00 pm
Great Lakes Commonwealth of Letters
758 Wealthy St SE
Grand Rapids MI 49503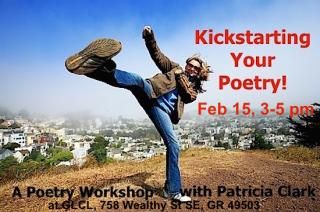 Join us for an encouraging and energizing poetry workshop led by award-winning poet Patricia Clark! Participants will leave the workshop with ten ways to get started with poems, and the techniques will work for both beginner and advanced writers. A great way to get your poetic blood moving!
This workshop is limited to 12 participants. The fee is $40 and you may sign up online through our "Donate" button on our Membership page; please note for which workshop you are registering in the "Message to Seller" field. You may also send a check to Great Lakes Commonwealth of Letters, 758 Wealthy St SE, Grand Rapids, MI 49503; or feel free to stop into our Writer's Hub Tuesday through Friday between 1:00 - 6:00 p.m. to pay in person.
This workshop will be here at GLCL; there is parking in our lot, which is the second driveway behind our building, off of Eastern. There's also a public lot just a block west of here. Please contact us at [email protected] for more info.
Patricia Clark is Poet-in-Residence and Professor in the Department of Writing at Grand Valley State University. She is the author of four books of poetry: Sunday Rising, She Walks Into the Sea, My Father on a Bicycle, and North of Wondering. Her poetry has appeared in magazines such as The Atlantic Monthly, Slate, Poetry, Mississippi Review, The Gettysburg Review, New England Review, Pennsylvania Review, North American Review, Seattle Review, and Iowa Woman. She has also co-edited an anthology of contemporary women writers called Worlds in Our Words.
Comments, like all content, are held to The Rapidian standards of civility and open identity as outlined in our Terms of Use and Values Statement. We reserve the right to remove any content that does not hold to these standards.