Press Club Critiques of "Face to Face"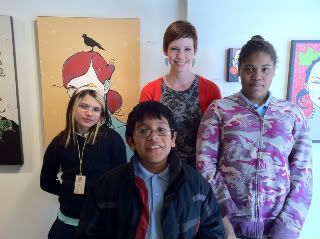 Tyesha:
I like the [colors] on Aneka's [paintings]. And I didn't like the story on Rebecca's paintings.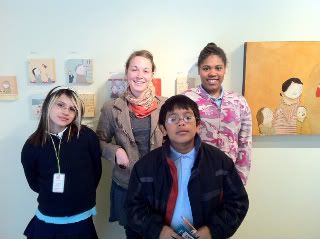 Alexy: Well all of this art looks fantastic! The best painting would have to be the painting were a boy is trying to look for the sun. One that stood up to me was the eat cake and be happy you're alive. The funny looking one was a lady with a [bird] on a girl's head. Over all these paintings were [awesome]! 5 stars!
Avelycia: [The gallery]
was small but filled with so much cool stuff. It was like a museum.
The art looked like it was looking at me 24/7. Also, it looked like it was on a book cover.
I liked the art because it had so much details.
I did like how Rebecca has words in her pics.
I did not like how she repeated the cake one 2x. Also, I did not like how the girl w/ polka dot has a white face and [cuckoo] earrings.
Rebecca had a blonde/brownish ponytail, had 2 scarfs, a brown jacket & a black dress on. She acted like she was proud in her work.
Aneka Ingold had red short hair, wing earrings, (black inside, silver outline) red outer, and a black lace shirt.
She acted like she was confident and knows her work well.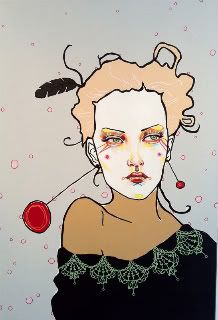 Gilberto:
Boring! I like Art! What are you talking about?! The art was like cartoons. I liked the 9th picture and the 10th picture they are cool. I did not like the picture with a lot of wemer its too much to describe and I do not [like] the picture with five [paintings] it is to much to describe.
Work by Aneka Ingold /Press Club
Work by Rebecca Green /Press Club